Our organic products
Clothes fair organic fashion ethical Green with organic labels
100% cotton combed(brushed) Biological certified boxing ring-spun
We work only with environment-friendly materials(subjects).
The production of biological cotton improves the fertility of the ground and the diversity thanks to her
Diversification and the crop rotation and especially the non-use of GMO and pesticides.
Fertilizers and used pesticides are natural necessarily, none chemicals, so groundwaters and streams remain healthy and the irrigation of waters is checked. Our raw materials biological used is certified by a recognized organization standard GOTS under the number of certification CU819434.
Besides the Organic dimension(size), we want to offer you the best, that is why as premium quality, we work only with some combed cotton boxing ring-spun.

Cotton fibers are cleaned by quite leus impuretées during the spinning.

It is important to understand(include) that the biological production protects the cultivated soil, while the conventional production destroys him(it).

The waste of the shelling is recycled in the animal food industry.

LABELS ORGANIC COTTON

GOTS-OE Blended, OE 100

Global Organic Textile Standard ( GOTS): world leader of the standards for the organic and biological textiles(textile industries). The criteria of optention, follow all the chain of supply and production, it through the notion of bio, but also ethics towards the worker.
SUSTAINABLE DEVELOPMENT, FAIR TRADE

On quite of the supply chain, we certify an approach(initiative) of dév. long-lasting(sustainable). To leave read time(weather) T0 of the farms of organic Cotton, the shadowing(spinning), the knitting machines of fabric(tissue), the dyes in time(weather) Tx of the manufacturing of clothes, all our partners can supply us organic certificates and ethical.

Our membership to the Fair Wear Foundation (Social responsibility of Company) and our certifications in the most recognized labels (GOTS, OE 100, OE Blended, OEKO TEX ®, REACH) prove our commitment.

LABELS FAIR AND ETHICAL TRADE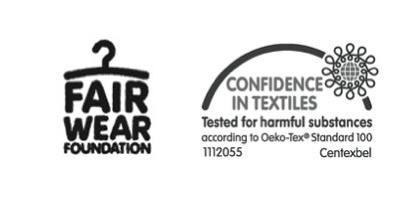 Fair Wear foundation

Independent organization - non-profit - Which collaborates with companies and factories to improve working conditions of the workers of the industry of the textile(textile industry).

This body moves forward hand in hand with affiliated companies to optimize the efforts made in the field of the human respect.OEKO-TEX ® (confidence in textiles)

THE OEKO-TEX ® Standard 100 is a system of independent control concerning the raw textile, the intermediate stages and the end product.
This certification all the human dimensions of the worker among which Not forbidden harmful chemical substances.
Comments
No comment at this time!
Leave your comment